From left to right: Dylan Maiden; Josh Schultz and Charlie Freeman.
Last year pysch-rock power trio Travelling Circle released their latest album, 'Escape From Black Cloud'. A fantastic fuzz driven thrill-ride, the LP was notable for it's inspiring tonal flavours. Wanting to find out more, Do You Even Psychedelic? caught up with the band to find out more about the gear used on the record...
(This article is a follow-up to DYEP's review of the aforementioned 'Escape From Black Cloud', which can be found here.)
Note: images taken from Google Images, some instruments/pictures may vary from that of the actual band's gear arsenal.
What guitars were used (with addendum regarding other instruments)?: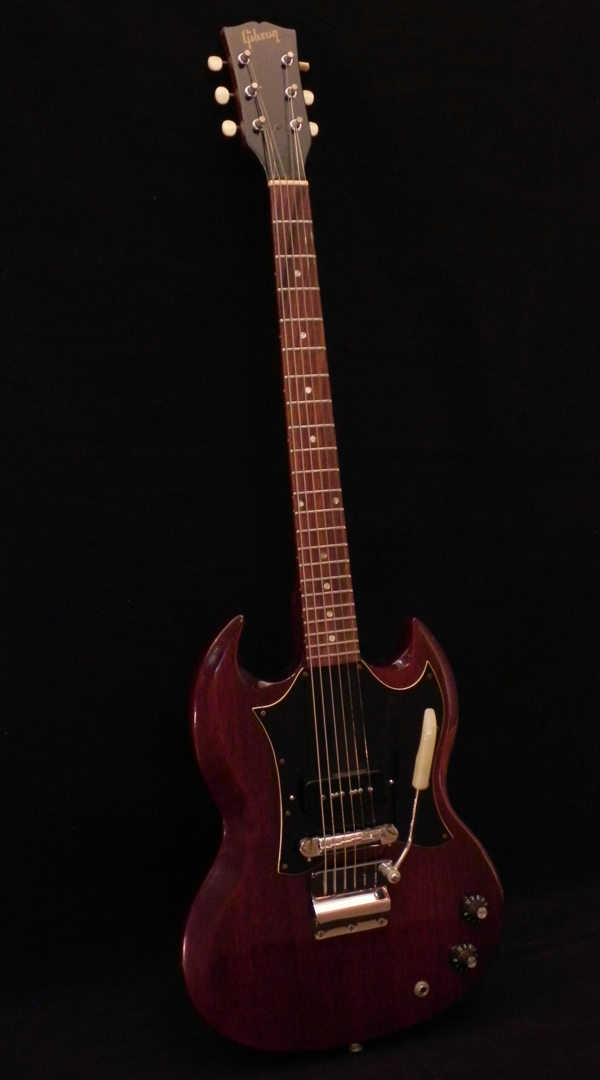 1967 Gibson SG
Dylan: I played my original Cherry Red 1967 Gibson SG Junior. It has a single P90 soapbar pickup.
The guitar speaks for itself and practically plays itself.
Josh: I played an early stop sign badge Gretsch drum kit. Some unusual elements of my kit include a very resonant 24-inch bass drum and 14-inch deep marching snare (Ludwig blue and olive badge). I use a (synthetic) wool lined cork bass drum beater, which makes for a very boomy sound. Personally, I love my ride cymbal, I have had it since I was 12 or 13. But what about the bass, Charlie?
Charlie: I played a Fender P-Bass with flat wound strings. I much prefer the tone of flats over rounds and I think they suit our sound really well. On "Willow Tree Fair," I played a Farfisa student piano that Josh gave me. Thanks again Josh! Dylan and I played a Fender Rhodes Piano on "Newborn Shadow" as well.
Early stop-sign badge Gretsch drum kit
without Schultz's modifications.
Josh: I found that thing on Craigslist for only $25 and it
made it on the record! Sounds great too! I had to take the Long Island Rail-road out to Ronkonkoma to pick it up. Actually scoring my drums involved a Long Island trip as well. The guy I bought them from had been in a band that released some major label records a long time ago but he wouldn't tell me the name of the band!
Dylan: This album also features Theremin arrangements by Matt Dallow and additional keyboard arrangements by producer extraordinaire, Gordon Raphael, who played an Arp Odyssey.
Josh:
This is the synth part on "Tears From The Soul." I actually didn't know Gordon used an Odyssey, I just knew it sounded great. Sweet!!!!!
What amps and pedals were used?:
1960's Ampeg Gemini I
Dylan:
I used a dual guitar amp configuration. On the left was a 90's reissue Fender Twin Reverb and to the right a 1960's Ampeg Gemini I, with my SG inputted through the reverb/tremolo and accordion channels, respectively. My pedal arsenal included a 1980's Electro Harmonix Big Muff, mid 1970's MXR Flanger, 2000's MXR Carbon Copy, 2000's Electro Harmonix Hum Debugger and 2000's Morley Splitter, which allowed me to create a stereo and quadrophonic effect on demand, ranging from reverb, fuzz, delay to flanger.
Josh: Dylan is a feedback wizard! I love the Gemini. I have been looking for a Gemini II, which has a 15-inch speaker, for my own dark purposes.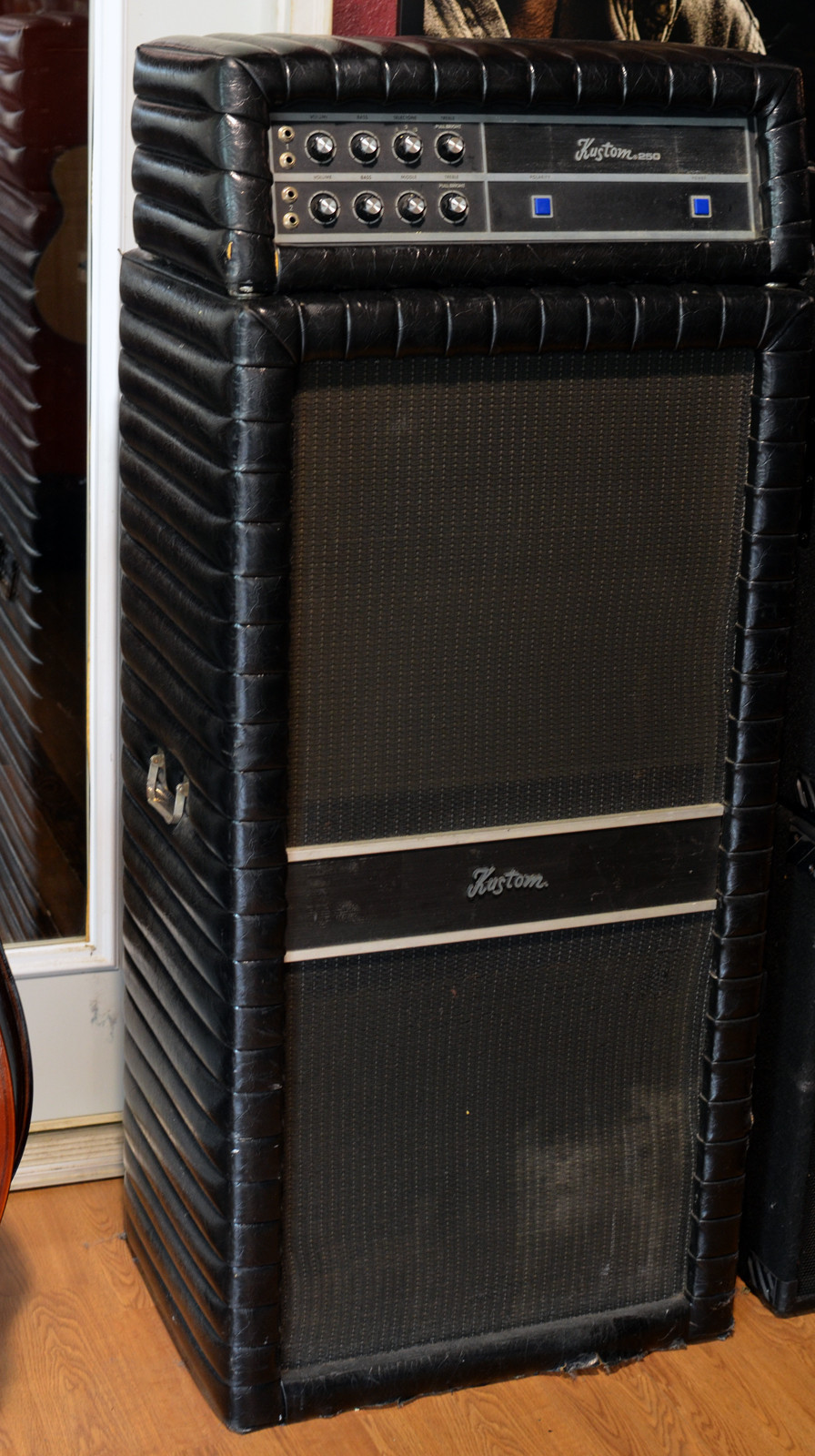 A vintage Kustom 250 Tuck & Roll.
Charlie: Dylan's set-up is pretty epic. I played through a late 60's Kustom 250 Tuck and Roll amp, running through an early 70's Plush cabinet. I used a 1970's Ross distortion pedal on some songs but very minimally.
Dylan: Yeah, but when you did use that Ross pedal Charlie, it was pretty fucking awesome. Minimal, but fucking awesome.
Details about the Escape from Black cloud sessions: e.g: Where/how it was recorded, ect.
Josh:
Both our records were recorded at Seaside Lounge in Brooklyn, NY with our friend Mitch Rackin. That place is the best!!!
Inside Seaside Lounge recording studios, Brooklyn.
Josh: They record to tape and have tons of cool stuff like the Roland Chorus Echo, a Rhodes, a Wurly, a Hammond, spring reverb, plate reverb -everything! Mitch is the best too!!! He put out a record a few years ago with a band called Heavy Hands (not the Scottish HC band) which is great if you can get your hands on it. His list of recording credits is long and he has worked on some sweet stuff. We recorded the basic guitar, bass and drum tracks for Escape from Black Cloud all in one big room but with a lot of mic options, room mics etc. Then Dylan and Charlie recorded their vocals and Charlie added some great keys. The Theremin was recorded in my apartment. We found Matt Dallow via craigslist and he came in and did a great job. Gordon Raphael took the tracks from there and mixed them and added a few bits somewhere between Berlin and Texas. He did a really great job. I am really happy with how it all turned out!
A Roland 'Space Echo' unit, just one of the many cool things
at Travelling Circle's disposal when recording the new LP.
Dylan: We kind of removed ourselves from the whole process of post-production and just left it to Gordon. When I first heard what he had done I was a little challenged to be honest. There were aspects I was uncomfortable with in terms of the overall depth. But in retrospect he really helped capture what we were thinking and feeling when we wrote those songs.
Josh: Mixing remotely was a real interesting process. We had to be pretty sure of the changes we asked for because then Gordon would have to go back to work and then get us another version. He was really easy to work with though and patient with us. He put more bass in the mix than probably would have been done if we were all sitting with him in the control room, and when I heard it I thought wow, these songs really move!!!! It changed my thoughts about the place for bass in a mix. Gordon deservers a lot of credit for the density and drive these mixes have.
Follow up and new material: e.g: lessons learned, new projects,ect.
Dylan:
Right now I'm working on songs for a new project in Australia. The style is very song-writerly and sort of arrangement-driven with elements of cinema, country, folk, psychedelia, space rock and undeniably some vestiges from my experiences with Travelling Circle. It's all virtual session work on Protools at the moment. But once the songs are ready, I'm sure I'll be calling on Josh and Charlie for assistance. The three of us are kindred souls when it comes to writing music. We share similar musical propensities. When I'm playing with these guys, they just know what to do.
Youth of the Beast's latest album; 'Seventy Seven'.
Josh: I am going to be playing drums with some friends on some recordings they will be releasing in the next few months. Their band is called Youth of the Beast. It's not psych but it has been fun to work with them. I also put some combo organ tracks down on the demo's. I will be curious to see if the organ parts survive to the final mixes! They sound good though so maybe they have a 50/50 shot at surviving! I constantly make noise at home but nothing really shareable. I picked up a Realistic Concertmate MG-1 for a great price recently so I have been messing with that a bunch, going down the dark road of analogue synthesizers. I'm certainly up for helping on some D. Maiden jams! We (Travelling Circle) got an offer to do a song for a comp from the great psych radio program Trip Inside This House from Saint Louis. I haven't actually discussed it with Charlie and Dylan yet. Do you guys want to do it?
Charlie: Let's do it! I've been working on some projects at home too, trying to strengthen my song-writing skills. They're pretty much just simple, folksy, hippie songs. I would love to try some long-distance recording sessions with these guys though. I think we could come up with something pretty far out.
Dylan: I'm definitely up for some tri-coastal session work.
Josh: Well in that case, keep an eye out for our track on an upcoming Trip Inside This House compilation!
You can find the whole of Travelling Circle's new album here:
Here!
This is what we said about Escape from Black Cloud:

''
★★★
★ - Very good, This album exceeds expectations in nearly all areas, begging the question, why is this the first we've heard of Travelling Circle? Get ready for a fully-stereo, fuzz driven thrill ride that will sit snugly into your Sunday evening and beyond...and yes, it's true bypass.''
Like the band's Facebook page to keep up with events:
Here!
Interview conducted by Dan Sharman, posted on 16/11/2013.